With the annual national inflation rate jumping from a 10-year average of 3.2% to 8.3% in 2022, businesses nationwide are searching for ways to save money. If you are looking for ways to increase operational efficiency and save money in your business, a computerized maintenance management system (CMMS) may be the perfect solution. CMMS software is designed to streamline operations, automate processes, and make it easy to know exactly when parts need replacing or equipment is due for routine maintenance. In addition, a well-designed CMMS can free up labor resources, reduce operating costs, and lead to increased overall savings. This results in an improvement of your bottom line while increasing safety and reliability within operations.
What is a CMMS?
A CMMS is a piece of software that compiles all maintenance-related data in one location and optimizes maintenance processes. It ensures the availability of assets while also maximizing the efficiency with which they are used. This can include cars, machinery, communications, plant infrastructure, and other assets. By managing all aspects of plant maintenance from one centralized location, CMMS software can offer an array of benefits that significantly reduce costs associated with downtime and repairs. Using a CMMS effectively can help save time and money while improving operational effectiveness.
3 Ways You Can Save Money with a CMMS
Optimize Inventory Tracking
Tracking your spare parts and other inventory is vital to keep your work orders timely and to plan supply orders. Using a CMMS provides visibility into your inventory that allows you to optimize these systems. You can make decisions based on reliable, up-to-date information. Without this insight, you may often find yourself without the parts and supplies you need in stock. Then, you're likely paying a premium for rush shipping or even having to buy the part at a consumer price instead of wholesale from your supplier. Furthermore, if you don't have the necessary parts for repairs, you risk adding the cost of lost production due to extensive downtime.
Minimize Downtime for Repairs and Maintenance
With the cost of downtime adding up with every minute of lost production, this leaves room for major savings. Forecasting and planning preventive maintenance helps you identify which assets will need to be replaced or removed from service for repairs so you can prepare in advance and minimize or completely avoid downtime. Downtime doesn't simply cost you lost production, you must also account for the cost of an employee per hour.
Improve the Productivity of Your Entire Team
While the baby boomer generation continues to reach retirement age, many industries are facing major skilled labor shortages. This means that companies have to do more with the employees they have, which requires eliminating inefficiencies and saving time. By optimizing your maintenance procedure, a CMMS increases team productivity and saves time. A CMMS digitizes work orders, making them easily searchable and accessible on any mobile device. This is crucial for technicians in the field or on the plant floor, as they save time by not being bogged down with slow, tedious paper processes.
Additionally, a CMMS offers many opportunities for automation. It can automatically send emails to notify users of new work orders, saving time and ensuring prompt communication to maximize staff productivity. The automation can even extend to work order reminders, which spares manager's time by removing the need for constant follow-up.
When it comes to the administrative side, using cloud-based software and an easy-to-use mobile app makes everything easier. Work orders won't need to be filed or rewritten. No more describing problems to your maintenance workers with in-depth emails or texts. All information is consistent, readily available, and updated in real time.
A CMMS Saves Time and Money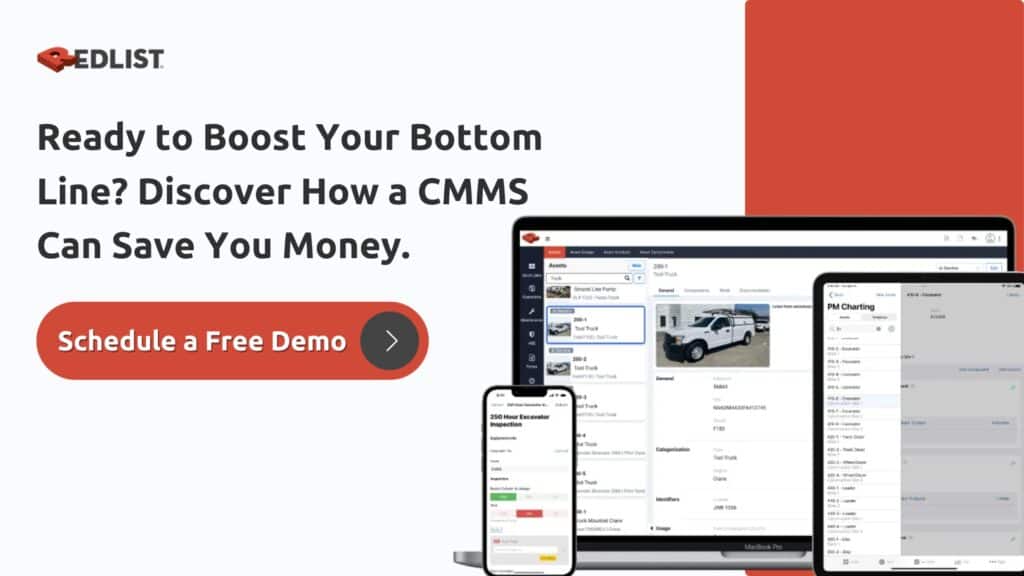 A CMMS is an essential tool for maintenance and operations management in any industry. By streamlining workflows and providing valuable insights, a CMMS can help you save time and money. If you're interested in learning more about how a CMMS can benefit your business, book a demo with us today. We'll show you how our software can help you optimize inventory tracking, minimize downtime, and improve the productivity of your entire team.