A Computerized maintenance management system (CMMS) is an essential tool for businesses looking to streamline their maintenance operations and improve the overall efficiency of their facilities. From reducing downtime to optimizing asset utilization, a CMMS can provide a wealth of benefits to organizations of all sizes. In this blog, we'll take a closer look at the top 10 reasons why every business should consider implementing a CMMS system. Whether you're a facility manager, business owner, or maintenance professional, you'll learn why a CMMS is a valuable investment in the future of your organization.
What is CMMS Software?
CMMS simply is a maintenance management software. It helps organizations manage and streamline their maintenance operations. It is used to plan, schedule, and track maintenance activities for various assets, such as buildings, equipment, and machinery. The primary purpose of a CMMS is to provide a centralized system for recording and tracking maintenance-related information, such as work orders, inventory levels, and preventive maintenance schedules.
Key Functions of a CMMS System
Work Order Management: Creating, assigning, and tracking work requests for maintenance tasks.
Asset Management: Keeping track of all assets within an organization, including their maintenance history and current condition. This is key for optimizing asset lifecycle and total cost of ownership.
Inventory Management: Managing and tracking inventory levels for spare parts, supplies, and tools.
Preventive Maintenance: Scheduling and tracking regular preventive maintenance tasks to minimize equipment downtime, improve asset performance, and extend the life of assets.
Reporting and Analytics: Generating reports and analyzing data to improve maintenance programs and processes and make informed decisions.
Resource Management: Managing and scheduling the resources needed to complete maintenance activities, such as technicians, tools, and materials.
Why Use a CMMS System in Your Business?
We've talked about what a computerized maintenance management system is, but why should you start using one? We could keep you here all day with countless benefits, but saving you time is the whole point. We've narrowed it down to our top ten reasons to switch to a CMMS for asset and task management.
1. No more paperwork!
Raise your hand if you like sitting in your truck at the end of your shift doing forms! At the end of a long day, you're tired, hungry, and ready to get home. The last thing you want is to fill out paperwork by the tiny light in your cab. Our very favorite thing about CMMS software is the time that maintenance teams get back for themselves and their families. By entering job details as you go, you can get on the road at quitting time.
As a business owner or maintenance manager, this is a big benefit. If your team is in a hurry to get home, paperwork tends to get pencil whipped. However, your organization counts on precise, reliable data. So, making it easier and faster to accurately complete paperwork helps everyone. This one benefit could save you from making crucial business decisions on inaccurate data.
2. Make fewer mistakes with a CMMS.
Detailed service logs and schedules help you see what happened and when so you can learn from past jobs. Every time information is captured manually, there is a lot of room for error. Finding the simplest and most direct ways to record and share data is what a good CMMS is all about. Your CMMS tracks what errors were made before, so you don't make them again.
Additionally, the thorough, detailed work orders and ability to include photos and videos with instructions empowers new team members to confidently do their job. It gives managers peace of mind that everyone will complete tasks according to the best practices outlined in the CMMS.
3. Easily and constructively capture issues when they happen.
No matter how much you prepare, problems still happen when you're on the job. It's easy to forget the details of an issue in the field, especially when everything happens quickly. With a mobile-ready, cloud-based CMMS, you can jot down details on your phone while they're fresh—even if you're in a spot without service.
Furthermore, a CMMS that is accessible on all mobile devices integrates photo and video documentation seamlessly. Instead of trying to write out an issue in detail, technicians can take a photo or talk you through the problem with a video. This is vital for equipment maintenance as the details of sounds and seeing the vibration or movement can help maintenance teams better diagnose an issue and plan the necessary repair.
4. Organize your asset and equipment records in your CMMS.
When everything is recorded in one place, you can spot problems before they come up. Everyone knows that regulation and compliance documentation only seems to grow. It's impractical to keep it stored away in case you ever need it for an audit or investigation. By having equipment records easily available online, you can quickly respond to certifications or requests. What's more, you can actually use the data in real time to make meaningful decisions for your company
5. Know ahead of time when repairs are due.
Get out of reactive maintenance mode and get ahead of the curve with preventive maintenance (PM). CMMS software is intended to help you understand at a glance what maintenance has been done and what's been overlooked. Reporting tools tell you how long repairs should take and how much time should pass between them, so you can always tell when something's off.
Also, this is vital for your maintenance planning and scheduling team. They can better plan preventive maintenance around production. Additionally, it allows them to forecast the maintenance alongside the parts, people, and schedule all in one program. This makes their job easier while ensuring that your scheduled maintenance has the parts and people required to be completed on time.
6. Keep all your locations on the same page.
Whether you have a massive yard, mine site, or factories across different time zones, we all know the struggle of getting multiple sites to communicate smoothly. A good CMMS system helps all your locations talk to each other in a single spot, no matter how far apart they are in distance. When one site gets updates, so do all the others.
This real-time visibility and insight are essential for upper management as well. When anyone on the team opens the CMMS, they are seeing real-time data. No manual data entry, updating, or generating reports is necessary to see this real-time data either. It's just there at your fingertips whenever you need it.
7. Cut back on "phone tag."
When you do need to get ahold of someone, you don't have to worry about waiting for a call back once they're somewhere quiet. Most CMMS solutions allow you to message one another within the app, and some even include texting and call history with the associated work order needed. Push notifications go straight to their phone with no calls necessary. If they need to reply, they can update the job with the details.
8. Improved communication with a CMMS in place.
With a mobile CMMS, there's no need to wait until you're at a desk to get updates. You can check in on jobs without interrupting them from wherever you are. You and your team can always know when things happen as they happen, instead of playing the waiting game. As the world of wearables (Apple Watches, Google Glasses, FitBits, etc.) continues to grow, your CMMS will find even more ways to keep you in the loop. This isn't quite the sci-fi world of RoboCop or Transcendent Man, but it's definitely a trend and the businesses that figure out how to stay in the loop are going to be way ahead of their competition.
9. Switch tasks without losing your place.
Things don't always go according to plan. In fact, it often feels that they never go according to plan. When you need to drop one work order for another, your CMMS saves your place (and any notes you've written). If anyone comes to you with questions about the job you paused, you can pick up right where you left off. This goes a long way in work order management, as none of the important details get lost.
10. Get organized.
Sick of forgetting which spreadsheet or notebook you used to keep track of a job? Nothing can be more frustrating in a compliance audit than trying to find some document that you know exists—but you don't know where it is. CMMS solutions keep everything in a central hub so you can find information with a few taps. Search, filter, or sort to your heart's content to get the details you need when you need them.
Are a CMMS and EAM the Same?
When it comes to managing assets within an organization, the terms CMMS and EAM (Enterprise Asset Management) are often used interchangeably. However, many people are unsure whether these two software solutions are actually the same thing or if there are differences between them. Here, we will explore their similarities and differences to help you better understand which solution is right for your organization.
CMMS and EAM software are both used to manage and maintain assets within an organization. However, there are some key differences between the two that should be considered when deciding which type of software is best for your business.
Scope: EAM software is a broader category of software that includes CMMS as well as other asset-related functions, such as financial management, supply chain management, and environmental management. CMMS, on the other hand, is specifically designed for maintenance management.
Functionality: EAM software typically offers a more comprehensive range of features and functions, including those for financial management, supply chain management, and environmental management, as well as maintenance management. CMMS, while still offering many of the same maintenance management functions, may not include the broader range of features available in EAM software.
Complexity: EAM software can be more complex to use and implement than CMMS software, as it includes a wider range of features and functions. On the other hand, CMMS software is often simpler to use and implement, as it is designed specifically for maintenance management.
Cost: EAM software is often more expensive than CMMS software due to its broader range of features and functions. However, this cost can be offset by the increased efficiency and productivity that can be achieved through the use of EAM software.
A CMMS System is Vital for Modern Maintenance Teams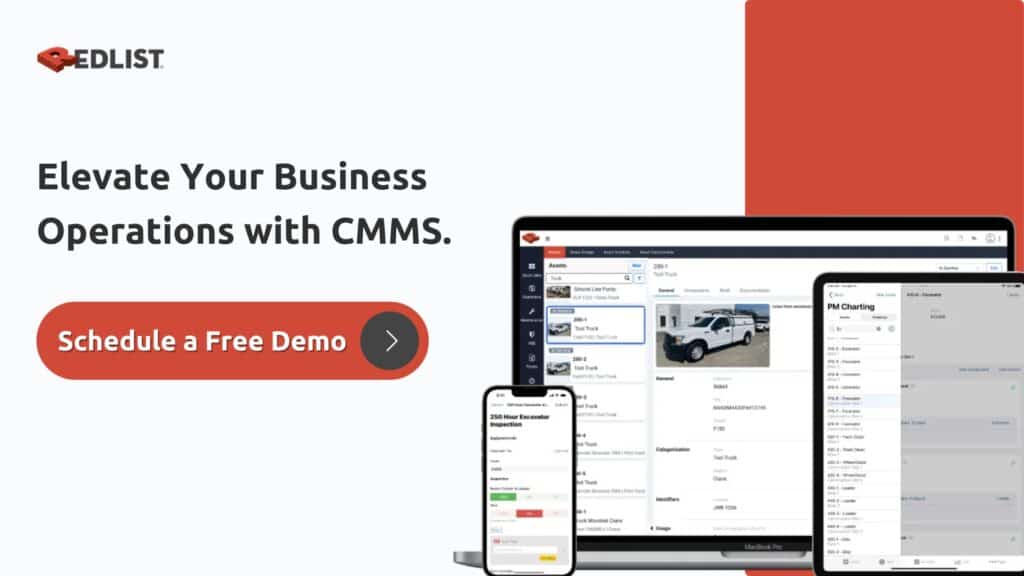 Ultimately, the choice between CMMS and EAM software depends on the specific needs and goals of your organization. If you are looking for a more comprehensive solution for managing all of your assets, EAM software may be the best choice. However, if you are primarily interested in maintenance management, a CMMS may be the more cost-effective and simpler solution.
Whether you want CMMS or EAM software, Redlist has you covered with a solution that you can fit in your pocket. Our cloud-based system lets you make updates from wherever you are—even if you don't have an internet connection. Get in touch with us today to learn more about how we can save you time, money, and effort!